Maximizing Space and Efficiency: Organizing an Overflowing Kitchen
A cluttered kitchen can be overwhelming and hinder your cooking endeavors. From overflowing cabinets to crammed countertops, a disorganized kitchen can turn even the simplest meal preparation into a frustrating task. If you find yourself with too much stuff in your kitchen, fear not – with a few strategic steps, you can transform chaos into order and create a space that's both functional and aesthetically pleasing.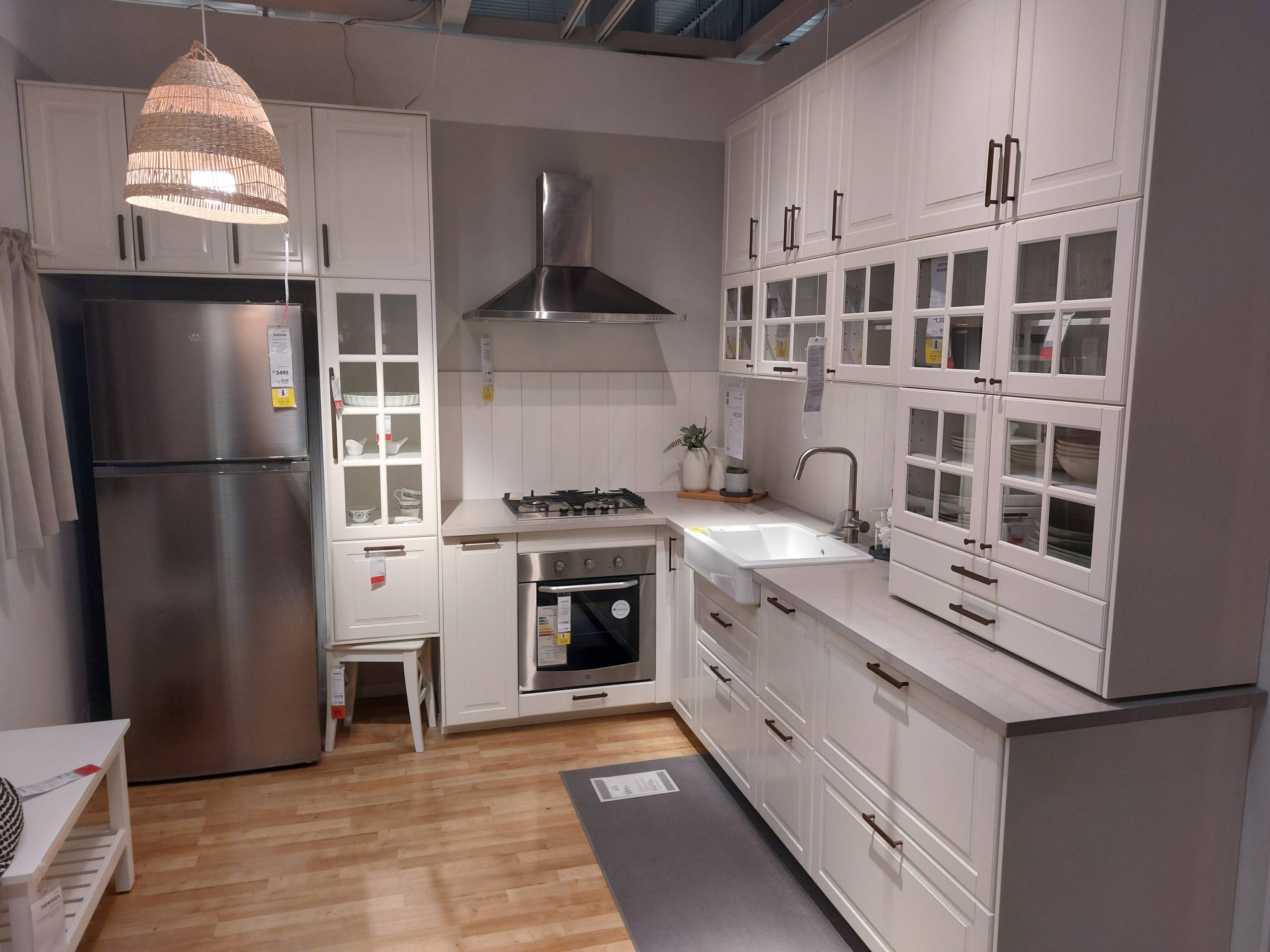 Assess and Edit:
Begin the organization process by taking stock of your kitchen items. This involves a careful assessment of what you have and deciding what truly deserves a place in your kitchen. Separate items into categories like utensils, cookware, appliances, and dishes. Be ruthless – if you haven't used an item in the past year or it's in poor condition, consider donating or discarding it. This step is crucial to prevent unnecessary clutter from returning.
Categorize and Group:
Once you've decluttered, sort your kitchen items into categories and groups. Group similar items together – for instance, all baking supplies in one area, pots and pans in another, and utensils in a designated drawer. This not only makes it easier to find what you need but also helps you identify if you have duplicates or excess items that can be further pared down.
Utilize Vertical Space:
Maximize your kitchen's vertical space by installing shelves, hooks, and racks on walls and inside cabinet doors. This provides a clever solution for storing items like pots, pans, cutting boards, and even spices. A pegboard can serve as a versatile storage solution, allowing you to customize the layout to fit your needs.
Invest in Storage Solutions:
Numerous storage solutions are designed to optimize space utilization in a cluttered kitchen. Consider stackable containers for dry goods, drawer dividers for utensils, and pull-out shelves for deep cabinets. Lazy Susans are fantastic for accessing items stored in corners or deep shelves, while clear bins help you easily see what's stored within.
Use Multi-Functional Furniture:
When space is limited, make the most of multi-functional furniture. A kitchen island with built-in storage can serve as extra counter space and provide room for bulky items. Look for tables and chairs with storage compartments to keep kitchen linens, small appliances, or even extra pantry items.
Implement a Regular Maintenance Routine:
Maintaining an organized kitchen requires ongoing effort. Set a regular schedule for reviewing and tidying up your kitchen space. Before you go grocery shopping, check your pantry and fridge to avoid overbuying items you already have. Return items to their designated spots after each use to prevent clutter from accumulating again.
Consider Donations and Storage Rotation:
If you have items that you use seasonally or infrequently, consider rotating them out of your main kitchen space. Store these items in a separate area like a basement or storage closet. Additionally, if you're hesitant to part with certain items, consider donating or selling them to give them a new lease on life.
Embrace Minimalism and Streamline:
Incorporate a minimalist mindset when organizing your kitchen. Embrace the idea that less is more. Instead of having multiple gadgets that serve similar purposes, choose versatile tools that can perform a range of tasks. This not only reduces clutter but also makes cooking more efficient.
Label and Date:
For items that are stored for longer periods, such as frozen foods or pantry items, use labels and dates to keep track of their freshness. This prevents items from languishing in the back of your cabinets and ensures you use them before they expire.
Personalize Your Kitchen:
Finally, as you organize your kitchen, infuse it with your personal style. Choose coordinating storage containers, add colorful accents, and hang artwork that reflects your personality. A kitchen that resonates with you is more likely to stay organized and motivate you to maintain its orderliness.
Turning an overflowing kitchen into an organized haven is achievable with thoughtful planning and dedication. By following these steps and customizing them to your space and needs, you can create a kitchen that is not only functional but also a joy to work in. Remember, the goal is not just to declutter, but to curate a space that supports your culinary creativity and fosters a sense of calm amidst the cooking chaos.
Ikea: Your Partner in Kitchen Organization
When it comes to transforming a cluttered kitchen into an organized oasis, one name stands out as a solution: Ikea. Known for its innovative and affordable home organization solutions, Ikea offers a wide range of products that can help you conquer even the most overwhelming kitchen clutter. Here's how you can harness the power of Ikea to achieve kitchen organization success:
Modular Storage Systems:
Ikea is renowned for its modular storage systems that can be customized to fit your space and needs. The PAX wardrobe system, for instance, can be repurposed to create a pantry with adjustable shelves and pull-out baskets. The ALGOT system offers versatile wall-mounted options for storing pots, pans, and utensils. These systems provide a flexible way to make the most of vertical space.
Drawer Dividers and Organizers:
Ikea's drawer dividers and organizers are a game-changer for tidying up utensils, cutlery, and kitchen gadgets. The VARIERA series offers everything from bamboo knife trays to versatile plastic bins that can be mixed and matched to create a custom solution for your drawers.
Space-Saving Solutions:
If you're dealing with a small kitchen, Ikea has solutions designed to maximize your space. The RÅSKOG utility cart is a versatile trolley that can hold anything from pantry items to cooking supplies, and it can easily be rolled to where you need it. Foldable tables and chairs like the NORDEN gateleg table offer dining solutions without sacrificing space when not in use.
Container Sets and Labels:
Ikea's wide array of containers, jars, and canisters make it easy to keep dry goods organized and visible. The KORKEN and IKEA 365+ series offer various sizes of glass containers, perfect for storing grains, pasta, and snacks. Don't forget to grab some of Ikea's adhesive labels for easy identification.
Under-Sink Storage:
The often-neglected space under the sink can be turned into a functional storage area with Ikea's under-sink organizers. The UTRUSTA series includes pull-out wire baskets and trash sorting solutions, making the most of this awkward space.
Hooks and Racks:
Ikea's collection of hooks and racks can transform empty walls into useful storage areas. The GRUNDTAL series offers stainless steel hooks and rails that are not only functional but also add a sleek, modern touch to your kitchen decor.
Ikea is a master at creating furniture that serves a dual purpose. Consider investing in pieces like the STENSTORP kitchen island, which provides extra countertop space and shelves for storage. The HEMNES shoe cabinet can be repurposed as a stylish storage solution for kitchen linens or even small appliances.
Planning Tools:
Before you head to Ikea, make use of their online planning tools. The kitchen planner lets you design your kitchen layout and visualize how different storage solutions can be incorporated. This helps you make informed decisions and ensures you choose the right products for your space.
Sustainability Initiatives:
Ikea's commitment to sustainability extends to its products. Many items are made from renewable or recycled materials, aligning with the ethos of minimizing waste and clutter while being environmentally conscious.
Ikea's vast range of organizational solutions can be a real game-changer when it comes to conquering kitchen clutter. By strategically incorporating their products into your space, you'll be well on your way to achieving a well-organized, functional, and aesthetically pleasing kitchen that's a joy to cook and create in.